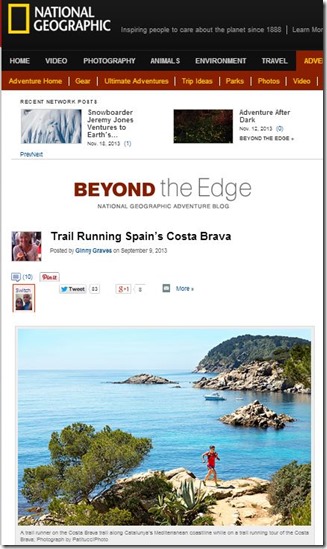 By the time I reached the apex of a near-vertical rocky path, I'd been running for more than two hours. I had sweat dripping from my chin, blood oozing from my elbow and knee—courtesy of a hidden tree root—and dark thoughts crawling through my mind. (This is vacation???) And then, just like that, from one punishing footfall to the next, I attained the ridge … and everything changed. Before me lay the vast cerulean carpet of the Mediterranean, under my feet a rocky promontory ornamented at its point with a lone cypress. Spielberg himself couldn't have designed anything more cinematic. "Nice, right?" grinned Pablo Rodriguez, a boyish, fleet-footed 35-year-old.Rodriguez owns Running and Outdoors Costa Brava, one of an up-and-coming breed of active touring companies that is gaining traction among those who prefer to take in the sites at something close to race pace—and the reason my husband, Gordon, and I (and a group of similarly avid runners) were standing, slack-jawed and bedazzled, atop a cliff in Catalonia, a fiercely autonomous region in the northeastern corner of Spain. The five-day tour along the spectacular Costa Brava, or "wild coast," included more than 50 miles of running on everything from gentle forested paths to steep, technical single-tracks; half a dozen visits to Medieval castles and cathedrals; thousands of exquisite calories (Catalonia is a gastronome's fantasy), four overnights in moderate- to high-end hotels—and dozens of surprises, Rodriguez's specialty…http://adventureblog.nationalgeographic.com/2013/09/09/trail-running-spains-costa-brava/
Day One: From Mountains of Food to Human Towers
First surprise: On day one of our running tour, we hit the ground … eating. Fine by me. We're in Girona, home to a handful of Michelin-starred restaurants, including El Celler de Can Roca, recently crowned the best in the world. We can't score a table at El Celler, so Rodriguez takes us to Mercat del Lleo, the local market that supplies its superior raw materials, for a sumptuous lunch of squid, cuttlefish, tuna, and botifarra dolce, an only-in-Catalonia sausage sweetened sugar, cinnamon and lemon zest. "Running Costa Brava is really about eating," says Rodriguez.
Bellies full, we jog through the stone streets of El Call, the well-preserved Jewish quarter, and past Roman walls dating from the 9th century, then slow our pace for a behind-the-scenes tour of the Cathedral of Girona, including a climb up a vertiginous staircase to the bell tower, which looks like it hasn't seen much action since the original architects began its construction in the 11th century.
Last stop: A local gym, where we meet Marrecs de Salt, a group whose avocation is building human towers, or castells—five, six or even nine people high—by standing atop each others' shoulders. The 18th century tradition is so uniquely Catalonian that in 2010 UNESCO added it to its list of Masterpieces of Oral and Intangible Heritage of Humanity. The castellers explain the technique and even give us rudimentary training. "There's a reason you're here," Rodriguez assures us mysteriously.
Day Two: From Trails to Kayaks
Our first real run begins on a steep, rutted climb through shady woods, and proceeds through a forest of cork trees and onto the promontory that inspired my Spielbergian moment. From there, the rocky trail gives way to a series of beaches (nude, this being Europe) that eventually fetch up at a cove, where a late picnic lunch—and kayaks—await.
After 13-plus miles of running, paddling feels heavenly, and we happily weave in and out of caves and coves for the better part of an hour. And the views! We're giddy as we beach our vessels alongside colorful fishing boats in the resort village of Calella de Palafrugell and stumble uphill to our hotel, where Rodriguez has two masseuses (surprise!) waiting. By dinnertime, I'm blissed out and bleary-eyed and long to fall straight into bed, but we have reservations at Casamar, a family-owned restaurant that was anointed with a Michelin star in 2011—and there's no way I'm missing it. I perk up at the delightful sunflower in sugar appetizer, a local specialty, and continue to gain steam all the way through the bream tartar and sauteed artichokes with baby cuttlefish. By the time we've finished the tarte tatin, I'm restored.
Day Three: From Sea to Shining Spa
My hamstrings are so tight I wince as I descend the hotel stairs, but a breakfast of Advil and traditional rustic bread with tomato pulp and jamon fortifies me for the 14 miles ahead. All morning, we run along sheer cliffs and up and down rocky coastal paths, till we reach a sheltered cove in the touristy town of Tamariu. The place undoubtedly has many charms, but Rodriguez, a kid at heart, has brought us here to enjoy one in particular: a diving board affixed to a rock outcropping. By turns, we backflip, cannonball, jackknife and otherwise plunge into the chilly sea. (Bonus: The cold water is a tonic for weary muscles.)
From there, we head slightly inland through shady forests and historic villages until we reach Pals, a small rice-growing hamlet that dates back at least 11 centuries, where a fantastic traditional lunch of local arros, or rice, and seafood awaits. The big surprise of the day: a visit to the luxe Mas de Torrent Hotel and Spa. Ahhh….
Day Four: From Ancient Structures to Perfectly-Aged Wine
Rodriguez drives us to the village of Vilajuiga, where a steep, rocky trail wends its way ever-upward, through scrub brush and boulders that cling to the side of the Serra de Verdera mountain. It reminds me of our local trails in Marin County, California, save for one key difference: It's dotted with small stone Flintstone-esque huts. "Bedrock?" I ask. Rodriguez thinks not. The 7,000-year-old structures, known as dolmens, were probably once burial chambers.
Farther up the trail we reach the former Benedictine monastery, Sant Pere de Rodes, which dates to at least the 9th century, then head up the mountain even further to the ruins of the castle of Sant Salvador Saverdera. At 2200 feet, it has a sweeping view of the area, including the glistening bay far below.
If the run up the mountain was a slog, the run down the steep, rocky single-track is pure exhilaration. With the rabbit-like Rodriguez leading the way, hopscotching from boulder to boulder, we fly past surprised tourists and finish up at the coast, buoyant and beaming — the perfect mood for an al fresco paella at the picturesque Perefita Winery, set in a 13th century farmhouse. We find refuge for the night (as did Dali and Picasso in their day) in the artsy, seaside village of Cadaques.
Day Five: From Flower Festival to Castle
Rodriguez is as amped as a kid at Christmas as we drive back to Girona for his "biggest surprise of all". It's the city's annual flower festival, and the human-tower group, Marrecs de Salt, is performing—and we're performing with them. I'm skeptical. Can novices safely participate in such a highly choreographed event? But as soon as I'm positioned at the base of the castell, hands raised overhead and pushing, strut-like, on the upraised arms of the man in front of me, I'm all in, caught up as much by the energy and focus of the group as by the cheering crowds. By the time an 8-year-old girl scampers to the top and unfurls the Catalan flag, I feel deeply moved.
Afterward, we have some time to walk around Girona—a treat, since it's the only opportunity we've had to explore on our own. Soon enough, however, we're running again, this time through a local park and up a trail to Els Angels, a picnic area, where we have lunch and prepare for a semi-technical 22-mile mountain bike ride, whose terminus is our final destination: Castell d'Emorda Hotel, a medieval castle set on a plain between the Pyrenees and the Mediterranean.
As we dine on foie gras and monkfish in the hotel's restaurant, Rodriguez says, "Didn't I tell you this trip is more about eating than running?" He did, and it's not. The challenging, breathtaking running sections are the tour's magic; they take you places you might not otherwise go, both along the Costa Brava and within yourself. The running is what sets the trip apart. The incomparable scenery, friendly culture, fascinating history and, yes, crazy good food just give you many more reasons to enjoy it.
Where we stayed:
Hotel Nord 1901, in Girona. A centrally-located, family-run hotel with spacious, light-filled rooms.
Hotel Sant Roc, in Calella de Palafrugell. Set on a hill, the large deck offers an outstanding view of the bay and village.
Hotel Petit Convent, in Begur. Small and chic, this serene hotel is set in a former convent, complete with rustic stone walls.
Hotel Rocamar, in Cadaques. With wonderful views, this comfortable hotel is within easy walking distance of town.
Hotel Castell d'Emporda, in la Bisbal d'Emporda. This 4-star hotel has impeccable service, and decor and food to match.